HOME > NEWS>
Company News
Heat pipe character -- "dusu"cooler
Date:

2012-4-9
CPU radiator is DIY essential accessories, most of the game player seen radiator are the basic rules of desktop or under pressure. Today I got a very special appearance of the radiator, which has the appearance of transformers, transformers and similar to opposite sides of the radiator fan, reserved space. I believe a lot of game player also want to interview the radiator, the radiator from CPU coolwhist (coolshist ), specific models for" coolwhist to check". The following we have a look at the6CPU radiator heat pipe.
The product quoted price is: $50in foreign countries. At present, also see the offer. The author is achieved 300 RMB
Coolwhist to check CPU radiator has a special square shaped structure, support360 degrees into four wind fin design. Using both sides of double fan, to more direct and comprehensive heat. CPU radiator with heat pipe and aluminum welding bottom technology, can produce two kinds of material is unique.
As for the heat pipe radiating benefits is needless to say, the heat pipe must be the future development trend of the heat sink, at least the trend is that, just the price and technology exist considerable differences.
coolshistto check CPU radiator special work exceptionally fine, the picture has been demonstrated in the radiator structure, and opposite sides of the radiator fan is used with good matte process, use effect is very good. In addition the cooling umbrella packaging that are equipped with 2wiring, fan and radiator separately using different plug wire.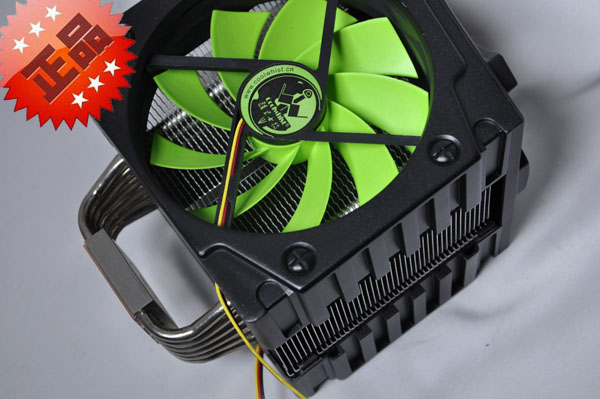 Radiator fin adopts the integral design, and each piece are arranged in parallel, in the vision is a kind of enjoyment, in addition to such a design can also support a good heat dissipation. We can see the CPU radiator base6 uses the heat pipe is divided into two columns, heat pipes and fins welded connection. Although the design of this will increase the heat conduction thermal resistance, but also can let the heat better distribution in the fin. The base portion of the radiator adopts the classical mirror base, can guarantee good flatness.
[Close]